Paul Kilfoil's World of Travel, Technology & Sport
---
Western Europe : August-October 1999
This page describes a trip by Paul Kilfoil and
Gail Hanson
to Europe in 1999.
Check out my
travelogues
page for details of other trips I've done.
If you enjoyed reading this, please send me an email. All correspondence is appreciated!
[Monday 30 August 1999 : Cape Town, South Africa] SwissAir took us from Cape Town to Johannesburg (where we waited for two hours while more passengers boarded) and then on to Zurich in Switzerland.
The Iberian Peninsula (Portugal, Spain, Andorra, Gibraltar)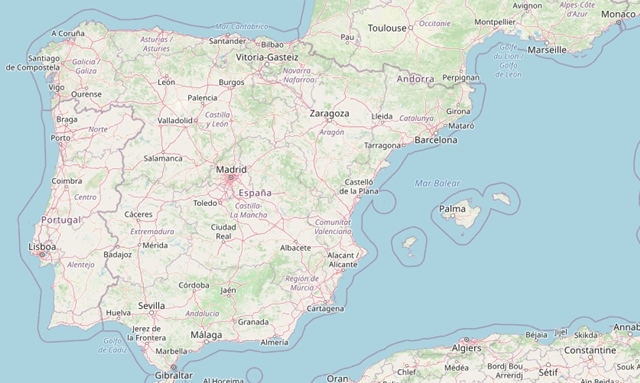 Map © OpenStreetMap contributors (
info
)
[Tuesday 31 August : Madrid, Spain] We landed in Zurich and had a couple of hours to kill before our connecting flight to Madrid, so we went through Immigration and walked across the road to the shopping centre/train station next to the airport. Gail, who had never been to Switzerland before, was unsure whether this 30 minute exploration could count as a "new country" for her ... particularly in light of the fact that the Swiss immigration official refused to stamp our passports (just as had been the case when I previously visited Switzerland in 1987). Very odd - I wonder if they NEVER stamp passports, or was it merely because we were South African?
Our flight from Zurich to Spain was on time and brief, and before we knew it we were walking round Madrid airport. The airport had recently had a makeover and it is very impressive - open, spacious and airy, with lots of natural light. The new Metro line to the airport had also just opened, and we used it to get into the city. Just like the airport, the Madrid Metro system is a delight - clean, efficient and reliable, so our first impressions of Madrid were extremely favourable. After one change of trains, we found our way to Puerto del Sol (the geographical centre of both Spain and Madrid), and checked into Hostal Paz, a pension that I'd pre-booked from South Africa. That night we had supper at a pavement cafe on Plaza Mayor - paella, of course.
[Wednesday 1 September : Madrid, Spain] We explored Madrid, which was sweltering hot even in September - while we were there the temperature hovered around 39 degrees Celsius during the day. Walking around we saw (inter alia) the Palacio de Villa Hermosa, Palazio St Cruz, Palacio Real (Royal Palace), Parque Retiro and the Jardines de Sabatini (Romantic Gardens). On Plaza de la Independencia there is a monument that is still riddled with bullet holes from the Spanish Civil War, a conflict that devastated Spain between 1936 and 1939 and which resulted in nearly 40 years of oppressive rule by the Fascist dictator General Francisco Franco. Democracy was only restored to Spain several years after Franco's death in 1975.
Madrid, Spain
[Thursday 2 September : Madrid, Spain] Gail had had enough of old buildings and museums, so I went on my own to the Archaeological Museum (with inscriptions only in Spanish) followed by the Naval Museum, then the Temple de Bod (an Egyptian building donated to the Spanish people). After some lunch we strolled down to the Rose Garden (la Rosaleda) - hundreds of different types of roses are cultivated there, but somehow it's not as impressive close up as it sounded. However, the Teleferico (cable car) ride to Casa de Campo was indeed thrilling, a ten minute airborne trip in a small car that can only fit six people. Casa de Campo is a HUGE park, and to get there the cable car travels above a river, railway tracks, freeways and apartment blocks. It is weird sitting up in the sky and looking down into apartment windows just below you!
[Friday 3 September : Pamplona, Spain] Our time in Madrid was over. We checked out of our pension very early, took the Metro from Puerto del Sol to Chamartin station and from there we caught an early train to Pamplona via Zaragoza. The Spanish countryside on the way was fairly boring - flat and uninteresting. Pamplona's train station is quite far from town, so we had to take a bus from the station. We found a really nice pension a block away from the main square, Plaza Castillo.
Plaza Castillo in Pamplona, Spain
The annual festival of San Fermines in Pamplona, which includes the maniacal Encierro (running of the bulls), was made famous by Ernest Hemingway in his 1926 novel The Sun Also Rises ; we found references to Hemingway everywhere we went. The festival is held in July each year so it wasn't on when we were there. We spent the day exploring this charming town, and saw the fortress, the famous bullring (where there is a statue of Ernest Hemingway), the route used during the running of the bulls during the encierro and Ernest Hemingway's favourite bar, Cafe-Bar Iruna. Seems that Hemingway had many "favourite bars" in a great number of cities all over the world - another of Hemingway's famous watering holes, Sloppy Joe's Bar, can be found in Key West in Florida, USA ; we'd both visited it in 1995.
[Saturday 4 September : Barcelona, Spain] We tried every bus company in Pamplona (and there are many of them) but not one seemed to have a service from Pamplona to Andorra. We eventually gave up on the idea of getting to Andorra from here and caught a bus south to Barcelona instead, a pleasant three hour trip. Barcelona has to be the "party" capital of Europe - the city pulses with life throughout the night, only getting quiet at about 8 AM! The main drag in the city is a pedestrian street called La Rambla which seems to be filled with throngs of people 24 hours a day. We strolled down from Plaza Catalunya to the waterfront and literally went in a circle whilst getting lost in the old town (Barri Gottic).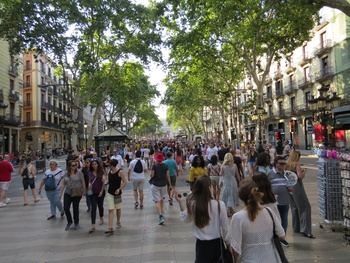 La Rambla, Barcelona, Spain
[Sunday 5 September : Barcelona, Spain] Walked up to the 1992 Olympic Stadium on Montjuic, then took the underground funicular back down into the city. Walked past the Erotic Museum (!) and saw the Olympic village near the beach ; it's now a series of upmarket apartment blocks. The beach itself is quite cruddy. That evening we sat at a pavement cafe on La Rambla and drank coffee whilst watching the people go by.
[Monday 6 September : Andorra la Vella, Andorra] We strolled round to Barcelona's sprawling bus station and boarded a bus to Andorra, arriving in Andorra La Vella in the early afternoon. This tiny place has the most extraordinarily congested streets and insane traffic. It's almost impossible to conceive how such a small town can be so overrun with cars, but it is - it's really difficult just trying to cross the street here!
Andorra is a small independent "co-principality" situated on the southern slopes of the Pyrenees Mountains and bounded by Spain (to the south-west) and France (to the north-east). The country was jointly governed by Spain and France in a kind of feudal system until 1993, when a new constitution was adopted and a completely independent democratically elected government was formed. The entire country is extremely mountainous, with no airport or train stations at all - there are only two roads in (or out), one from Spain and one from France.
After settling in at Pension La Rosa we took a bus up the mountain to a tiny village called La Massana, an exquisite little place in beautiful countryside. After soaking up the peace and quiet for a while we headed back down to Andorra la Vella and explored what little there is to see in this miniature country's capital "city". Andorra is a tax haven, with cheap watches, cameras and jewellery everywhere. I bought an incredible Seiko watch for about a THIRD of what it would cost in South Africa.
[Tuesday 7 September : Toulouse, France] After a morning spent browsing the tax-free shops in Andorra la Vella's crowded streets, we took a midday bus north to France. The bus struggled up a narrow, twisting mountain pass through a number of small villages, and as we went higher the weather changed from the hot and sunny climate of Andorra la Vella to a cold wind and swirling mist. At the top of the pass we stopped briefly in the small border town of Pas de le Casa before descending down the other side into France. We got off the bus at the tiny French village of L'Hospitalet, the terminus of the French rail system in south-western France, but this turned out to be a mistake because the next train from L'Hospitalet was hours away. In fact, L'Hospitalet looked derelict and abandoned, with not a soul in sight except the two of us and one other backpacker who was similarly stranded. It looked like we were in for a very long wait, so I packed away all my Spanish Pesetas, filled my wallet with the few French Francs I had and settled down as comfortably as I could in the train station waiting room.
Monaco
The principality of Monaco and city of Monte Carlo lie on the southern Mediterranean Sea coast of France, near the border with Italy. It is the second smallest independent state in the world (after the Vatican, which is six times smaller than Monaco) and is almost entirely urban. With no natural resources to exploit other than its location and climate, the principality has become a resort for tourists and a tax haven for businesses. Monaco is by far the world's most densely populated independent country with second place Singapore lagging behind by some 10 000 people per square kilometre. It is probably best known for its Casino and the Formula 1 Grand Prix motor race that takes place through the city's streets in May every year.
But a few minutes later we heard the sound of a bus, and even before we could step outside to see where it was going two French Customs officials marched into the train station. They were brisk and officious and demanded to look inside my backpack. Amazing - they must check L'Hospitalet every day, knowing that people often get dropped there after leaving the tax haven of Andorra. When the customs guys realized we were harmless tourists rather than smugglers they were quite friendly and explained that there would not be any trains from L'Hospitalet today, so we'd better get on the bus outside if we didn't want to be stuck here for days.
We grabbed our stuff and ran, getting on the bus just it was leaving ; luckily I had enough French Francs for our tickets, otherwise we might have been stranded at L'Hospitalet indefinitely - there were no ATMs, banks or foreign exchange places there at all. The bus was only going as far as Ax le Thermes (also a tiny village, but not quite as abandoned as L'Hospitalet), from where we had to take yet another bus to Foix, a rather bigger town. At Foix we managed to get a local train to Toulouse from where we took an overnight train east to Nice. So it took three buses, two trains and nearly 24 hours to get from Andorra la Vella to Nice.
[Wednesday 8 September : Nice, France] Arrived in Nice knackered after spending the night on the train. Walked down to Pension Les Mouettes, two blocks from the beach (which I had booked by phone from Toulouse). Settled in and explored the beachfront in the blazing Cote d'Azur heat. The beaches around Nice are all stony, but the water is clear and warm and the weather is consistently fantastic.
Nice (above) and Cannes (below), France
[Thursday 9 September : Nice, France] Took a train east to Monte Carlo, a short ride along the coast. Explored Monaco, seeing (inter alia) the changing of the guard at the Prince's Palace, the Loews tunnel used in the annual Formula 1 Grand Prix and the Casino (where we lost 40 Francs). Gazed awestruck at the floating gin-palaces masquerading as yachts in the marina. From Monte Carlo we caught a train east through France into Italy, getting off just over the border at Ventimiglia. Ventimiglia is an Italian seaside town, but very tacky compared with the French towns on the Riviera. I had some Italian currency (Lire) left over from when I was last in Italy (in 1987) and we used it at a local supermarket.
From Ventimiglia we went by train back into France, getting off at Menton, where we had a long walk along the beach and a swim (memories of 1987, when I'd stayed in Menton for five days). Today we achieved the rare feat of visiting three countries in half an hour (France, Monaco, Italy).
[Friday 10 September : Nice, France] Took a train west to Cannes and shopped, explored and swam on the sandy (not stony!) public beach. Had pizza for lunch at a pavement cafe. On the way back to Nice we got off the train at Antibes and had a swim there ; the rather crummy beach at Antibes is behind old battlement walls, adjoining the cathedral and Picasso's museum. Back in Nice we had supper at one of the many restaurants in the charming old town (Vieux Nice), a maze of cobblestoned streets and alleys.
[Saturday 11 September : Nice, France] Explored Nice on our last day there, lazed on the beach, swam and ate baguettes for supper. I went for a long walk down the promenade that fronts the beach (called Promenade des Anglais), then climbed the steep hill to Colline du Chateau, the ruined castle on the hill dominating the east side of the city. The views from there are awesome.
France


Capital
Government
Area
Population
Language
Currency (1999)
Currency (today)

Paris
Republic
543 970 km2
56 700 000
French
French Franc (FFR)
Euro (EUR)

By European standards, France is a large country with a number of different regions and vastly differing climates from north to south. It has coastlines on the North Sea, the Atlantic Ocean and the Mediterranean Sea, and land borders with Spain, Andorra, Belgium, Luxembourg, Germany, Switzerland, Italy and Monaco.
[Sunday 12 September : St Raphael, France] Checked out of our pension and caught the train west to St Raphael, a very pleasant ride along the Cote d'Azur ; the railway tracks are right next to the sea most of the way. We managed to get the very last room in a small hotel near the beach, train station and St Raphael town. Thereafter we swam, strolled along the beachfront and had spaghetti for supper at a pavement cafe.
[Tuesday 14 September : St Tropez, France] Stored our luggage at the hotel then took a bus to St Tropez, a two hour trip past some great scenery (there is no railway line to St Tropez - you can either get there from St Raphael by road or by sea). In St Tropez we browsed around the old port, ogling at the multi-million dollar yachts and the mega-rich tourists sipping cocktails in the cafes. St Tropez is a maze of little alleys and back streets containing outrageously priced clothing boutiques and shoe stores.
We were amazingly lucky to meet an English-speaking local who told us about a free public beach only a few minutes walk from St Tropez town that was not mentioned anywhere in our guide book. Called Plage de la Bouillabaisse, it was a fabulous spot, with clean white sand, crystal-clear warm water and shady places to sit. Late in the afternoon we caught the twice-daily boat across the bay back to St Raphael, had a quick pizza for supper, grabbed our luggage from the hotel then caught the overnight train west and south via Marseilles to Spain.
[Tuesday 14 September : Alicante, Spain] On the train in the middle of the night Gail discovered that somebody had been tampering with her backpack while she was sleeping and had stolen travellers' cheques worth several hundred US dollars. Luckily the train stopped in the very early hours of the morning at a rail junction called Port Bou (very near the Spain-France border), where we had to change from the French (SNCF) train we were on to a Spanish (RENFE) train. While waiting on the station we phoned American Express and reported the loss of the cheques ; Gail had all the serial numbers and they promised her she would get a full refund at any American Express office. They also said that because we had reported the theft so quickly and it was so early in the morning, the thief could not possibly have cashed the cheques yet, and thus he would almost certainly be caught when he did try to cash them. That was nice to know, although it didn't help us much ... We were heading to Alicante so we decided to get the replacement travellers' cheques there.
Shortly thereafter we boarded the Spanish train for the rest of our journey south-west to Barcelona, but this trip was short because in the middle of nowhere the train packed up with a series of loud bangs from the locomotive. We had to get off and wait in the rain for the next train, which was full, so we had to stand soaking wet all the way to Barcelona. Because of the delay we were only just in time catch our connecting train south to Alicante ; this was thankfully a plush, very comfortable express. Arrived in Alicante in mid-afternoon knackered and without the energy necessary to look for a decent place to stay, with the result that we spent the night in a real dive.
Rail Gauges in Europe
The railways in Spain and Portugal use wide-gauge tracks (1668 mm, called
Iberian Gauge
), whereas France and most of the rest of Europe uses standard-gauge rail tracks (1435 mm). That is the main reason why there is no direct rail connection between Spain and France, and why we had to change trains in the middle of the night at the tiny town of Port Bou on the France-Spain border.
[Wednesday 15 September : Alicante, Spain] Moved out of the flea-pit digs of our first night in Alicante and checked into the very nice Hotel Rialto. I walked up the steep path behind town, via the Santa Cruz Hermitage and the old city walls, to the crumbling Castillo de Santa Barbara perched on the hill above town. Although the castle is ruined and isn't very interesting, there are magnificent views of Alicante and the Mediterranean Sea from the top of the hill. Gail lay on the beach and visited the local American Express agents who started the process to replace her stolen travellers' cheques ; they said she would have to come back the next day to fetch them.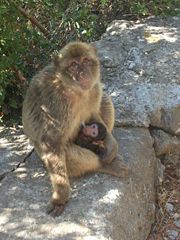 Barbary Macaque in Gibraltar
[Thursday 16 September : Garrucha, Spain] Gail went to the American Express agents early in the morning and collected her replacement travellers' cheques. We then checked out of our hotel, picked up a tiny rental car (a red Ford "Ka") on a 7-day unlimited mileage deal and drove south out of Alicante. We tried to stay next to the coast but had to go inland on a terrible road through barren, semi-desert country. The day ended well because we found a great hotel for the night in a little village called Garrucha, and had a fabulous (and incredibly cheap) Chinese meal for supper.
[Friday 17 September : Granada, Spain] Drove west along the gaunt, windswept coast to Salobrena Beach - miles of sand, pounded by wind and waves. I really wanted to visit the Alhambra (in the city of Granada), so we left the coast behind, turned inland and drove north through the Sierra Nevada pass. Granada is a city of narrow, twisting, cobbled streets and hectic traffic, with busloads of tourists everywhere. We found a pension for the night in the centre of town opposite the main square ; it was a rather dodgy place, with a toilet that had to be flushed by emptying a bucket of water into it.
[Saturday 18 September : Torre del Mar, Spain] We packed all our gear into our tiny car, checked out of our pension then walked up the steep hill to the Alhambra complex. It's an impressive place, a relic of the time when much of southern Spain was occupied by the Moors, Islamic invaders from north Africa. Drove south out of Granada down to the coast (back the way we'd come the previous day) and headed west from Salobrena Beach. At Torre del Mar we found a self-catering apartment for the night in a high-rise block. Although we were only one block from the beach, it wasn't a very savoury place. The good weather we'd enjoyed up to now came to an end - by late afternoon the sky was dark grey with storm clouds and the wind had come up.
Gibraltar
Gibraltar (commonly referred to as "The Rock") is a British Overseas Territory on the south coast of Spain. It was ceded to Great Britain by Spain at the Treaty of Utrecht in 1713 and has remained part of the United Kingdom ever since. Everything about Gibraltar is extremely British, except for the fact that cars drive on the right and Spanish Pesetas are accepted in addition to Pounds Sterling (the official currency).
Most of the land in Gibraltar is taken up by a monolithic limestone promontory that is 426 metres high, the upper area of which is a nature reserve. The nature reserve is inhabited by some 250
Barbary Macaques
- these are small apes with no tail and are the only wild primates found anywhere in Europe. There is also a labyrinthine network of tunnels and caves within the Rock.
[Sunday 19 September : Fuengirola, Spain] We woke up to wind and torrential rain, and drove west through a wall of water to Malaga (largest town on the Costa del Sol) and Torremolinos, where we had lunch at a waterfront cafe - hamburger, eggs, bacon, chips, baked beans and tomato. The towns along the Costa del Sol coastline are extremely British, with English restaurants, waitresses, menus, food, newspapers and radio stations. The only thing Spanish is the currency. The rain had stopped by the time we reached Fuengirola, where we checked into the Hotel Salben for two nights.
[Monday 20 September : Fuengirola, Spain] Explored Fuengirola, then drove west to Marbella in the afternoon. Marbella was disappointing, with icy water and a rather dismal public beach. Had soup, roast turkey and apple crumble for supper at one of the many British restaurants in Fuengirola.
Old town hall, Cadiz, Spain
City square, Seville, Spain
[Tuesday 21 September : Tarifa, Spain] We discovered a flea-market in Fuengirola a block away from our hotel, so we explored that in the morning before leaving. I could not resist buying a knock-off (illegal copy) Rolex watch for about R90 ; knock-off or not, the watch was still keeping perfect time nineteen years later. We then checked out of our Fuengirola hotel and headed west along the coast to Gibraltar.
We soon found out why Gibraltar is known as "The Rock" - it is visible from miles away, a massive outcrop in the flat Spanish landscape. Traffic inside Gibraltar was chaotic (and on the right, not the left even though it's British) as we drove to Europa Point, through the tunnel that goes under the massif (very wet) and to the cable-car station. Took the cable-car to the top where we marvelled at the view across the straits to North Africa and explored the many caves, tunnels and look-out posts. We saw quite a few of the tailless Barbary apes that inhabit the massif. Left Gibraltar and found a hotel for the night in the shabby, windswept Spanish town of Tarifa.
Lagos, Portugal
[Wednesday 22 September : Cadiz, Spain] Tarifa is the windiest spot in Europe, and thus a mecca for boardsailors. Both the beach and the town were dismal and bleak, so we left early and drove on to Cadiz. Cadiz is a fascinating and extremely attractive city on a narrow peninsula surrounded by pristine beaches. We explored it thoroughly that night by following the tourist route painted in red on the sidewalk.
[Thursday 23 September : Seville, Spain] We had to return the rental car in Seville before 1 PM, so we headed north out of Cadiz early. When we got to Seville we first found a pension in which to stay for two nights, dumped our gear in the room then drove to the rental agency. The agency proved infuriatingly difficult to find, and when we eventually located it after a great number of wrong turns it was shut until 2 PM. So we drove out to the airport and handed the car back there, but by this time it was more than an hour late ; we were extremely lucky to escape without incurring a penalty. It was a long wait for the next bus back into town so we shared a cab with three other backpackers.
[Friday 24 September : Seville, Spain] We spent the day exploring Seville. The old town is an unbelievably confusing labyrinth of twisting alleys and streets ... it's impossible NOT to get lost in it. We planned to leave Seville the next morning on a bus direct to Lagos in Portugal, and because we wouldn't be returning to Spain (we'd be flying back to South Africa from Lisbon) we converted all our remaining Spanish Pesetas into Portuguese Escudoes. It was surprizingly difficult finding a bank that would do this, considering the fact that Portugal and Spain are neighbours.
[Saturday 25 September : Lagos, Portugal] We caught an extremely early bus from Seville west via Faro to Lagos on the Portuguese Algarve coast, a fairly pleasant if not spectacular trip. At the Lagos bus station we were approached by a woman with a private apartment to rent nearby ; we followed her, had a look at the place she was offering and took it for one night. It was a bit small and poky, but it had a full kitchen. That afternoon we walked into Lagos and discovered that the apartment was a long way from town and the beaches, but we found a much nicer place a short walk from Pinhao Beach on the west side of town and booked it for the following two nights.
The train from Lagos to Tunes, Portugal
[Sunday 26 September : Lagos, Portugal] Transferred our gear from the poky apartment to the more spacious place we'd booked, then explored Lagos. It's a charming town, with an attractive cobbled square and fabulous beaches. Had sardines and potatoes (the national dish of Portugal) for supper at a restaurant on the town square. Of all the seaside towns we'd seen in France, Spain and Portugal, there's no doubt that Lagos was the nicest and for that reason it makes it onto my best places in the world list.
[Monday 27 September : Lagos, Portugal] Walked along the cliff path westwards until it became unpleasantly hot. Spent the rest of the day swimming, exploring the sandstone cliffs (typical of the Algarve coast) and relaxing on various beaches.
[Tuesday 28 September : Lisbon, Portugal] We caught the early train from Lagos that heads east along the coast to Faro, the largest town on the Portuguese Algarve coast. We didn't go as far as Faro but got off at Tunes, a major rail junction, where we changed trains and caught the northbound express to Lisbon - a very pleasant, relaxing trip. Trains to Lisbon from the south actually arrive at Barreiro, across the very wide Tagus River from Lisbon itself. At Barreiro we had to take a ferry across the river to Praca Commercio (where there is a massive statue of Dom Jaoa I on horseback in front of an impressive arch into the city itself). It took a bit of effort, but we eventually found a decent pension for the next few nights near Praca Dom Pedro IV, and had pizza for supper. The traffic in Lisbon is mind-boggling.
Lisbon, Portugal
Commerce Square
(Praca do Commercio)
Jeronimos Monastery
Belem Tower
[Wednesday 29 September : Lisbon, Portugal] Lisbon is in a valley between two steep hills and is divided into three areas - the Alfama (medieval district) on one hill, Bairro Alto on the other hill and Baixa (the city) nestled between the two. I spent the morning exploring the confusing labyrinth of streets in the Alfama, the afternoon in the Bairro Alto and in the evening I walked up to the top of Avenida da Liberdade where there is an amazing view of the whole of Lisbon.
The Alfama is a fascinating maze of steep, winding streets, ancient houses built at crazy angles and churches seemingly everywhere. Trams clank up and down the twisting streets, often missing walls and cars by millimetres. Pedestrians have to duck into doorways when trams or cars pass by. At the top of Alfama there is an ancient ruined castle, the Castelo de Sao Jorge, which was built in the 5'th century by the Visigoths, enlarged in the 9'th century by the Moors and used by the Portuguese royal family from the 14'th to the 16'th centuries. The views across Lisbon from the ramparts of the castle are magnificent, ample reward for the hard slog up the hill to get there.
Unfortunately the historic elevator (the Ascensor de Santa Justa, built in 1902) from Baixa up to Bairro Alto was closed for repairs so once again I found myself slogging up a steep hill. Bairro Alto is much more modern than the Alfama, with nightclubs, bars, trendy restaurants, swanky apartments and yuppies enjoying designer coffee at sidewalk cafes. Apart from students, intellectuals and posturing 30-somethings, there are several noteworthy sights in Bairro Alto - the Houses of Parliament, many churches, the English Cemetery (quite an odd place), Portugal's national museum and a restful park containing some trees with truly massive canopies, the Parque de Sao Pedro de Alcantara. The park is at the edge of the cliff overlooking Lisbon ; an interesting mosaic relief map shows all the landmarks that can be seen from there.
[Thursday 30 September : Lisbon, Portugal] One day of exploring Lisbon on foot was enough - the steepness of the hills makes it murder on the legs. So today we each bought a one-day pass for Lisbon's public transport system, which allowed us unlimited travel on trams, buses, funiculars and the metro. We used trams most of the time, because Lisbon's trams go everywhere and many tram routes offer beautiful views of the harbour and the older neighbourhoods. Lots of the trams in service are very old, some dating back to the early 1900's, but they are immaculately maintained so an added bonus is that you often get an atmospheric ride in a vintage coach.
The Alfama (medieval) district of Lisbon, Portugal
In the afternoon we took a tram west along the north bank of the Tagus River to the inner-city suburb of Belem. Belem contains several monuments and museums from Portugal's glorious "Age of Discovery" - the Belem Tower (surrounded by water on three sides), Padrao dos Descobrimentos (built in 1960 to honour Prince Henry the Navigator), the Jeronimos Monastery (from the 16'th century, it commemorates Vasco da Gama's voyage to India via the southern tip of Africa) and others. We ended our three days in Lisbon with coffee and pastries at a typical sidewalk cafe.
That evening we caught a bus to the airport and boarded our TAP (Air Portugal) overnight flight to Johannesburg. I was incensed, because we were forced to sit in the "smoking" section for the whole 12-hour trip because of the terminally stupid seating arrangements of this utterly shoddy airline. I shall never fly TAP again unless I absolutely have no choice ; they are beyond doubt the WORST airline I've ever had the misfortune to fly on (no wonder TAP's nickname is "Take Another Plane").
[Friday 1 October 1999 : Cape Town, South Africa] Arrived in Johannesburg to find we'd missed our connecting South African Airways flight to Cape Town. So we went on standby for the next flight, and were lucky enough to get on it without waiting long. And that was the end of Europe 1999 ... next stop Australia and Malaysia in 2001.
---
© Paul Kilfoil, 2023