Paul Kilfoil's World of Travel, Technology & Sport
---
Thailand & Cambodia : June-July 2006
This page describes a trip by
Paul Kilfoil
,
Karen Gray-Kilfoil
and Scott Gray to South-East Asia in 2006.
Check out my
travelogues
page for details of other trips we've done.
An edited version of this story appeared in two parts in the "Weekend Argus" (a newspaper published in Cape Town, South Africa) - on Saturday 17 October 2009 and Saturday 12 December 2009.

South-East Asia


Cambodia
Laos
Malaysia
Myanmar (Burma)
Singapore
Thailand (Siam)
Vietnam

Phnom Penh
Vientiane
Kuala Lumpur
Yangon (Rangoon)
Singapore
Krung Thep (Bangkok)
Hanoi
If you enjoyed reading this, please send me an email. All correspondence is appreciated!
[Friday 16 June 2006 : Cape Town, South Africa] We flew to Kuala Lumpur in Malaysia on Malaysian Airlines, and then boarded our flight to Bangkok in Thailand (also on Malaysian Airlines). Kuala Lumpur International Airport (KLIA) is fabulous, one of the best airports in the world if you have a long layover. There is a fully automated train that runs between the domestic and international terminals, and we rode it backwards and forwards once or twice to while away the time while waiting for our connecting flight to Bangkok. I'd been to Kuala Lumpur before on my way back from a 6-week trip round Australia in 2001.
[Saturday 17 June : Bangkok, Thailand] Arrived in Bangkok and were collected by our hotel's courtesy bus. Amazingly, a package deal to Thailand that INCLUDED three nights' accommodation and airport transfers was cheaper than the flight on its own! So we opted to take two of these free nights immediately we arrived in Bangkok (17 and 18 June) and the third on the night before we left (14 July). Bangkok is a huge, sprawling place, with traffic that words cannot describe. NO WAY are we going to rent a car here! That evening we all had a long, relaxing swim in the hotel's fourth floor swimming pool [Aside : Bangkok was renamed Krung Thep Maha Nakhon (or simply Krung Thep) back in 1972, but even today very few people use the official name].
[Sunday 18 June : Bangkok, Thailand] Took the smart new SkyTrain elevated railway to the broad, muddy Chao Phraya River, then a boat up-river to the Grand Palace. These river boats are fast and frequent, allowing you to get around Bangkok without having to deal with the frenetic traffic on the crowded streets, and we used them a lot. The boats also afford great views of many of the sights in Bangkok, such as the Royal Palace, the National Museum and the Temple of Dawn. The Grand Palace, a magnificent series of buildings and temples, was a short walk in the rain from the boat station; Scott and I had to hire long pants to get inside - no shorts are allowed as all visitors have to have their legs and shoulders covered. We marvelled at the solid gold Buddha in the palace before heading out again to find a restaurant for lunch.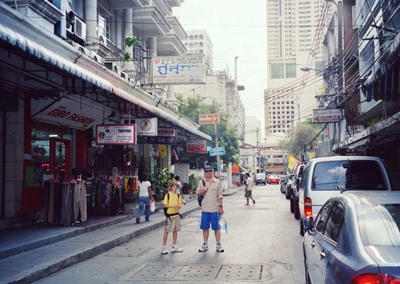 Paul and Scott in Bangkok
[Monday 19 June : Kanchanaburi, Thailand] We left Bangkok early, taking a minibus north-west to Kanchanaburi, a hair-raising trip of two and a half hours. After arriving we went for a ride on a longtail boat on the River Kwai and visited Chungkai Cemetery, a sombre place maintained by the Commonwealth War Graves commission containing thousands of graves of Allied prisoners-of-war who died during World War II while being forced by the Japanese to build the "Death Railway" between Thailand and Burma (now Myanmar). We also hiked to Kao Poon cave, a series of underground caverns containing several Buddhas of varying sizes.
Back in Kanchanaburi we walked over the legendary River Kwai bridge, the same bridge that was built by World War II prisoners and is still in use today; it is pock-marked with bullet holes and bomb damage. The original wooden trestle bridge that was first built has long since been destroyed - that bridge, which was the basis of David Lean's classic 1957 film The Bridge on the River Kwai, was in any case only ever intended to be temporary. The second bridge, a more permament steel and concrete structure, is the one that is still there. Six scheduled trains a day travel over the River Kwai bridge between Kanchanaburi and the Thai railway terminus at Nam Tok, not far from the Myanmar border. Near Nam Tok is "Hellfire Pass", a ravine through which the railway used to run and which is now a popular hiking trail - you actually walk on the old trackbed. The railway tracks from Nam Tok westwards over the border into Myanmar (Burma) were lifted several years ago, so it is no longer possible to take a train from Thailand to Myanmar.
Update 1 : In May 2012 the Myanmar Minister of Railways announced that a feasibility study would be carried out later in the year to determine the viability of re-opening the death railway on the Myanmar side of the border. The tracks in Myanmar that were not destroyed by Allied aircraft during World War II have been reclaimed by the jungle, so extensive rehabilitation in very difficult terrain will be needed. The intention is to rebuild a 105 kilometre stretch of track from Thanbyuzayat in Myanmar to the Three Pagodas Pass on the Thai border. However, that would still leave a stretch of about 164 kilometres from the Three Pagodas Pass to the existing Thai railway terminus at Nam Tok to be built, and there has been no suggestion from Thailand Railways that they are prepared to fund this. The biggest problem is that the Vajiralongkorn Dam in Thailand, built in 1984, has covered the route beyond Nam Tok under many metres of water.

Update 2 : I have no idea if the survey mentioned above was ever completed, but as of May 2016 there is no indication that there are any concrete plans to rebuild the Death Railway. These grandiose schemes have a way of quietly disappearing once the highly-paid consultants have done their work and delivered piles of documents and pie-in-the-sky plans.

Update 3 : It appears as if the latest plan is to convert the original Death Railway route in Myanmar into a ROAD.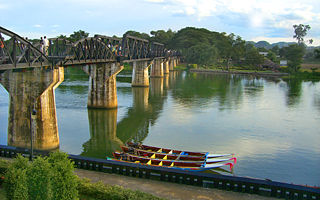 Bridge over the River Kwai, Kanchanaburi
Later that afternoon we went for a ride on tame elephants at the Taweechai Elephant Camp; this culminated in the elephants walking into the River Kwai and us getting drenched while sitting on their backs. The elephants also sprayed us with their trunks. This was near a village of the Karen tribe, a minority group who are seeking independence from Thailand and Myanmar. We had a delicious meal that evening in the Karen village.
Original Death Railway Route
Prior to WW II, railway tracks existed in Thailand from Bangkok to Ban Pong and in Burma from Rangoon to Thanbyuzayat. The "Death Railway" built by the Japanese between September 1942 and Ocober 1943 comprised the 415 km stretch from Ban Pong to Thanbyuzayat. The 269 km section from Nam Tok to Thanbyuzayat no longer exists.
| | | |
| --- | --- | --- |
| | Bangkok | 0 km |
| | Ban Pong (Nong Pladuk) | 64 km |
| | Kanchanaburi | 133 km |
| | River Kwai | 138 km |
| | Nam Tok | 210 km |
| | Konyu Cutting (Hellfire Pass) | 228 km |
| | Three Pagodas Pass | 374 km |
| | Thanbyuzayat (Burma) | 479 km |
| | Rangoon (Burma) | 824 km |
Note that "Burma" is now "Myanmar" and "Rangoon" is now "Yangon".
[Tuesday 20 June : Kanchanaburi, Thailand] Karen and Scott went on a longtail boat to an area of floating markets (shops on boats) while I walked around town. I visited the JEATH Museum and the Thailand-Burma Railway centre, both of which are moving and sombre memorials to the thousands of Allied prisoners-of-war who died at the hands of their Japanese captors during the construction of the "Death Railway". The POWs had to work in extreme conditions with very little food, no medical attention and endured torture and punishment from the brutal Japanese guards. It is estimated that as many as 15 000 POWs and over 100 000 conscripted Asian workers perished while the railway was being built. The Japanese have their own war memorial near the River Kwai bridge, but it was being renovated and could not be seen when we were there.
Aside : In January 2016 the Myanmar government opened its own museum commemorating the horrors of the Death Railway; it is in the town of Thanbyuzayat, the western terminus of the line.
In the afternoon we visited Tiger Temple just out of town. This is a sanctuary for tigers that have been rescued or reared in captivity - you can sit next to the tigers and stroke them, which is scary stuff because they are HUGE. Unfortunately we felt that there was a significant element of exploitation at Tiger Temple. While tourists are visiting, the tigers are chained up in a mercilessly hot, sun-blasted rock defile with no shade at all. They appeared listless and were probably drugged - how else could they be sure that a tiger won't eventually attack a tourist? The well-being of the tigers seemed secondary to the ultimate purpose of fleecing tourists. All in all this is not a place I would recommend, visit again or support in any way. In fact, if anybody reading this is contemplating visiting Tiger Temple, PLEASE DON'T!
Aside : In May 2016, after years of complaints from NGOs and animal rights activists, the Thai government finally closed Tiger Temple. All 137 tigers at the facility were removed and relocated to other wildlife reserves.
[Wednesday 21 June : Bangkok, Thailand] We spent the morning at Erawan National Park, a 550 square-kilometre nature reserve named after the three-headed white elephant of Hindu mythology (the erawan). The main attraction of the park is the Erawan Waterfall, a series of seven "tiered" waterfalls that are incredibly beautiful. We walked up the trail to the top of the falls, swimming in the clear, cool water on the way up. Even Karen swam, which means it must have been really HOT ... The trail through the thick jungle is quite confusing and we got lost once or twice on the way down, but we managed to blunder our way out eventually. There are apparently four caves in the park as well, but we didn't have time to look for them.
After an excellent lunch of Phad Thai we walked along a section of the "Death Railway", then caught one of the regular local trains over a series of wooden viaducts that were built by Allied prisoners during WW II and are still in use today. The tracks run alongside the River Kwai for quite a distance and the view is excellent. The train was full of young school children going home - we marvelled at their immaculate school uniforms. The children would get off at obscure stations in the middle of nowhere and disappear into the thick jungle. I have no hesitation in putting this trip on my Best Train Trips in the World list. That evening we took a much more sedate bus from Kanchanaburi back to Bangkok, getting there in the dark.
The Death Railway,
Kanchanaburi





[Thursday 22 June : Bangkok, Thailand] Explored Bangkok and organised our trip onwards from here. This time round in Bangkok we were staying in "Backpacker Central" - Khao San Road, with it's myriad guest houses, restaurants, internet cafes, souvenir shops and scam artists. After booking flights on Air Asia to Phnom Penh in Cambodia we ventured out and saw the splendour of Wat Pho (which contains a HUGE reclining Buddha covered with gold leaf) and walked through the shambles and chaos of Chinatown. Fried cockroaches for supper, anybody?
[Friday 23 June : Ayutthaya, Thailand] We checked out of our Bangkok hotel after breakfast then strolled to the nearest water bus station on the river. From there we took a boat down-river to Hualamphong Train Station and caught a local train north to Ayutthaya. The train only had hard wooden bench seats and no air-conditioning, but it was fast and on time. In Ayutthaya we found an amazing place to stay for the next two nights - an old house made entirely of teak and converted into a guest house; it was on the bank of the Chao Phraya river and near to both the train station and town. Ayutthaya is actually on an island, with the Chao Phraya river to the east of town and the train station on the other side. The easiest way to get between the two is via a simple ferry that conveys a constant stream of people across the river. The ferry is just a small boat with room for perhaps a dozen passengers; the crossing takes about a minute and costs the princely sum of 2 Baht (40 SA cents) per person. If you don't take the ferry it's quite a long walk in brutal heat to a bridge further down the river.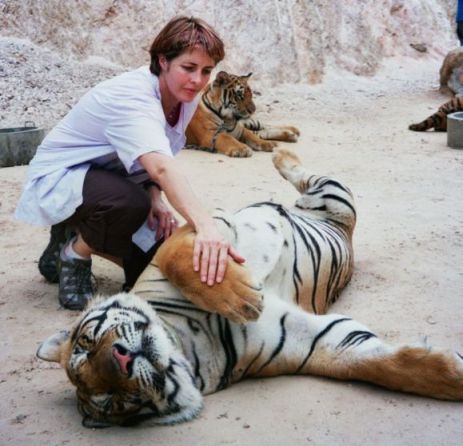 Karen at Tiger Temple, Kanchanaburi
In the afternoon we explored the city, which is full of old Khmer-style ruins and is relentlessly hot. In the grounds of the ruins of Wat Phra there is a Buddha that is slowly being engulfed by the tentacle-like roots of a massive tree - all that remains to be seen is the Buddha's head, mashed between thick roots on either side. After a couple of hours of walking around the baking heat drove us into the first restaurant we could find, more for the shade than the food. We ate lunch and waited until the hottest part of the day had passed before strolling back to our guest house. However, we quickly discovered what happens after such heat in the tropics - about half way back to our guest house the heavens opened and rain fell with such force that we were completely drenched within seconds. It didn't stop quickly either, so we ran back and stayed indoors that evening as the rain thrashed down onto the roof with such a clamour that talking was difficult.
[Saturday 24 June : Ayutthaya, Thailand] Our experience on our first day in Ayutthaya had taught us that attempting to explore this spread-out city on foot in the severe heat is madness; instead we rented three rather ramshackle bicycles and rode around, seeing more Khmer ruins and a huge old reclining Buddha that is being restored. I wouldn't dream of suggesting that anybody try this in the insane and congested traffic of Bangkok, but Ayutthaya is perfect for cycling - the roads are wide, traffic is sparse (by Thai standards) and there are no hills to speak of.
You can go for elephant rides in Ayutthaya, but the elephants we saw looked extremely unhappy and badly treated. We had lunch at a real, authentic local restaurant on stilts on a river-bank for ten Bahts each (that's less than TWO RAND).
[Sunday 25 June : Chiang Mai, Thailand] After an early breakfast at our guest house we humped our gear across the river on the tiny commuter ferry and caught a train north to Chiang Mai, a ten hour trip in air-conditioned comfort. Meals were served to us at our seats just like on a plane. The countryside in the south is flat and boring, mostly rice paddies, but north of the town of Uttaradit it consists of deep cuttings, soaring bridges, tunnels and thick forest right next to the tracks. The train arrived in Chiang Mai quite late, and because the station is a fair distance from the city centre it meant some tough negotiating with a sawngthaew driver to get into town. A sawngthaew is a small covered pick-up truck with two benches down the side for passengers - they provide much the same service as a tuk-tuk or taxi except that they can take more people. We endured a confusing ride through the back streets of Chiang Mai before we found a hell-hole of a guest house for one hot and sweaty night.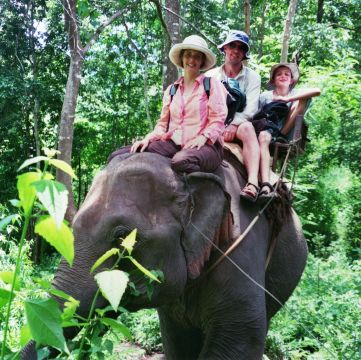 Riding an elephant in the jungle, near Chiang Mai
[Monday 26 June : Chiang Mai, Thailand] We moved out of our dodgy digs of the night before and checked into Gap's House for the next three nights. Gap's turned out to be a fantastic guest house, the best place we stayed in in the whole of Thailand - a great room, excellent breakfast and a superb eat-all-you-can vegetarian buffet every night in their open-air rooftop restaurant. We spent the rest of the day exploring Chiang Mai, arranging activities for the next few days and planning our onward travel.
[Tuesday 27 June : Chiang Mai, Thailand] Trekked through thick jungle and over a rickety wooden suspension bridge (we felt like we were in an Indiana Jones movie) to a village of the Hmong tribe (originally from southern China) then went elephant riding (again) and rode bamboo rafts down a fast river - good fun, very wet, lots of falling in. We also visited a village of the Karen tribe (originally from Myanmar), whose huts are roofed with leaves from teak trees; these are completely waterproof and last two years before having to be replaced completely. In the evening we walked around the crowded Chiang Mai night market, where we bought Scott a very nice "knock-off" watch (after much haggling) and had delicious pancakes from a street vendor for supper.
[Wednesday 28 June : Chiang Mai, Thailand] Visited some hot springs (VERY hot water - the locals boil eggs in the wells), a village of the Akha hill tribe (originally from Tibet; they are poverty-stricken and pathetic), a village of the Yao hill tribe (originally from China; they have very distinctive and colourful traditional headgear), the Golden Triangle on the Mekong River (where the borders of Myanmar, Laos and Thailand meet) and the ancient city of Chiang Saen (dating from 1328, now just ruins). We also took a longtail boat across the Mekong River to the island of Don Sao, which is ostensibly part of Laos but is actually just a tourist trap - it consists of nothing but shops selling trinkets to foreigners.
The northernmost point in Thailand, at the border with Myanmar
On the way to the Golden Triangle we stopped in Mae Sae, the northernmost town in Thailand and right on the border with Myanmar. Mae Sae is favoured by backpackers for doing a "visa run" - this involves a quick trip over the border to Tachilek in Myanmar and then back again twenty minutes later, thus securing a further 30 to 90 days of legal residence (depending on nationality) in Thailand. Mae Sae is probably the easiest town in Thailand in which to do this, as the border post is at the end of the main street and you can simply walk over. Of course, the draconian rules set by the military government of Myanmar make it quite difficult to get into Myanmar for any extended period, but day trips (with severe restrictions on how far from the border you can go) are usually allowed.
Aside : In 2008 this activity was drastically curtailed by the Thai government when it was announced that if you enter Thailand via a land border you would only be permitted to stay for 15 days without a visa, not 30 days as was previously the case. However, 30 days are still allowed if you enter the country by air or if you obtain a visa prior to arrival.
[Thursday 29 June : Chiang Mai, Thailand] Walked around Chiang Mai (a very nice, relaxed city, with loads of bookshops containing English-language books) then caught the overnight train south to Bangkok - no compartments in second class, everybody sleeps in bunks with only a curtain for privacy. The bunks are laid out parallel to the direction of travel, down the sides of the train, with a passage in the middle. Unfortunately, because we booked our tickets so late we could not get the much sought-after bottom bunks, which are quite a lot bigger. We each had a top bunk, which was fine for Scott but I found it quite cramped - they're not made for tall Westerners, but rather for short Thais.
Aside : Thai Railways uses metre-gauge tracks (1000 mm), which are quite a lot narrower than standard gauge (1435 mm). Trains in Thailand are thus not very wide, necessitating bunks on sleeper coaches being laid out along the sides of the train, not at right-angles.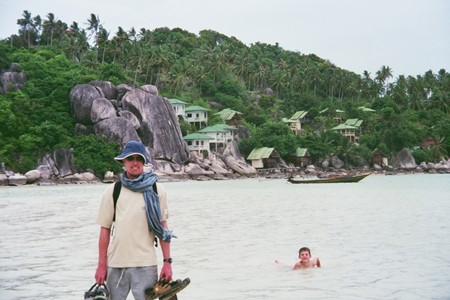 Paul and Scott in the lukewarm water off Ko Tao. The Taa Toh resort,
where we first stayed on the island, is visible in the background
[Friday 30 June : Chumphon, Thailand] Arrived in Bangkok early and immediately caught a second class "sitter" train south to Chumphon, the nearest mainland town to the east coast island of Ko Tao. We didn't make it in time to get the last ferry to the island that evening so we had to spend the night in Chumphon. On the way south the train hit a motorcyclist and had to stop, reverse, pick up the injured driver (a woman) and take her to hospital in the next town.
[Saturday 1 July : Ko Tao, Thailand] Caught the 7 AM ferry to Ko Tao, the smallest and most northerly of three islands off the east coast in the Gulf of Thailand. It was a rough trip of about three hours, with lots of people looking very green - I didn't feel too good myself. On Ko Tao we booked into the Taa Toh Lagoon resort on the south-west coast, an idyllic spot on a fabulous beach with palm trees, warm water, a great view from our balcony and (unfortunately) lots of rain. I guess we're in the tropics, what can you expect ...
[Sunday 2 July : Ko Tao, Thailand] Ko Tao ("Turtle Island" in English) is pretty small, only about 21 square kilometres in size. We walked round the west coast of the island from our beach hut via a very rough jungle trail to Mae Haad, the largest village on the island and where the ferry had docked the previous day. Mae Haad is a ramshackle sort of place, with dirt roads full of mud and puddles from the rain and plenty of restaurants and souvenir shops. We had lunch in Mae Haad, looked at the shops then walked back to our resort on the road, dodging the multitude of motorcycles and scooters that buzz around all the time. It poured with rain most of the day, but was still blazing hot and we swam later on while it was raining.
King Rama V (1853-1910)
Rama V, whose real name was Chulalongkorn, ruled Thailand (then known as Siam) from the age of 15 in 1868 until his death in 1910 and is regarded as one of the greatest Thai kings ever. He earned the nickname "The Great Beloved King" by modernizing Siam, implementing social and political reforms and ensuring that the country was never colonized by any Western power, even though he reigned during a period of extremely intense Western expansionism - Burma (now Myanmar), Malaysia and Singapore to the west and south fell to the British while Cambodia, Laos and Vietnam to the north and east became French. The Dutch grabbed Indonesia and other territories in and around the South China Sea, but in the midst of all this Siam remained independent and was never colonized (although the king was forced to cede territory to the neighbouring powers, mostly the French, several times).
[Monday 3 July : Ko Tao, Thailand] Moved to a different resort, just up the beach from the place we'd stayed in for two days - much cheaper and a better location as well. Because of the huge boulders at the edge of the beach we had to get to this new place by carrying our backpacks and gear through the sea, in waist-deep water; otherwise it would have meant a long trek round on the road that skirts the forested hill behind the resort. After settling in we lazed on the beach for the rest of the day, in lukewarm water, knee-deep and crystal clear.
[Tuesday 4 July : Ko Tao, Thailand] We rented two motor-scooters and explored the whole island, from north to south and east to west. There is an entire whale skeleton mounted on rocks at a resort in the north. On the north-west coast we found a resort devoted to meditation, from which there is a fabulous view across the sea to Nangyuan island and the twin rocks that are connected to Nangyuan via a narrow spit of sand. Ko Nangyuan is very near Ko Tao and it looks as though you could easily swim to it, but apparently the currents in the narrow channel between the two islands are extremely strong and swimming is not recommended. There is only one resort on Ko Nangyuan, aimed mostly at well-heeled divers who are prepared to pay their wildly inflated prices. We headed south again and went swimming at Sairee Beach on the west coast (Sairee is the main beach on Ko Tao and is several kilometres long), where we came across the huge rock known as "King Rama V Rock".
We finished our scooter tour of the island with a long swim at Aow Leauk, a fabulous, secluded beach on the east coast. Unlike most of the other beaches we visited, Aow Leauk beach has deep water and big swells rolling in from the ocean, but the water was still amazingly warm - you could stay in for hours with no discomfort at all. We left as the sun was setting and pootled back to our beach hut.
[Wednesday 5 July : Ko Tao, Thailand] We rented a 3-person kayak and snorkelling equipment and paddled around the small bays on the south coast, swimming and snorkelling in the clear water. We saw tons of fish, including a puffer fish (very poisonous - the toxin of the puffer fish was used in the past by witchdoctors in Haiti to turn people into "zombies").
Paddling round Ko Tao
[Thursday 6 July : Bangkok, Thailand] Left the island of Ko Tao at 2 PM and started on a long, hard journey to Phnom Penh in Cambodia. This entailed a ride on a pick-up truck to the boat dock on Ko Tao (in the village of Mae Haad), a ferry to the mainland (a catamaran), an overnight bus from Chumphon on the mainland to Bangkok where we arrived at 1 AM and a taxi to Bangkok International Airport. The taxi ride through the early-morning darkness of Bangkok was a crazy, white-knuckle experience, leaving us all with weak knees and trembling fingers - I guess the driver was getting back at us for negotiating too hard before we agreed on a price.
We had quite a long wait at the airport before our early-morning flight to Phnom Penh in Cambodia. It was on Air Asia, a budget airline with no tickets and bookings only via the internet. However, it was cheap, pleasant and on time so we had no complaints.
[Friday 7 July : Phnom Penh, Cambodia] We landed at Phnom Penh airport in mid-morning, and after negotiating customs and immigration we took a taxi into the city. We trudged around in the heat, looked at several guest houses and eventually found a great room at a place called the Swiss Guesthouse for six US Dollars a night. Completely knackered, we had a shower and nap before venturing out again [Aside : Cambodia's currency (the Riel) is worthless and everything is priced in US Dollars - even the ATMs dispense dollars. There are no coins of any kind and about 4000 Riels to the Dollar].
Our first port of call was the Royal Palace, the official residence of the king of Cambodia. The palace is a huge estate comprising many buildings, temples and stupas, the most impressive of which is undoubtedly the Silver Pagoda. The Silver Pagoda is so-named because it has a floor made entirely of several thousand solid silver tiles. It also contains a diamond-studded Buddha and is consequently the most visited place in the whole of Phnom Penh. After leaving the Royal Palace we strolled along the Tonle Sap River, near the confluence with the Mekong River, and had a look at the Cambodia-Vietnam Friendship monument. Lunch was at a local street-side restaurant and cost the princely sum of $1-50 for the three of us TOGETHER. It was cheap but we knew it would be good - the place was packed with locals (always a good sign) and the food was delicious.
Phnom Penh, alongside the Tonle Sap River
Buying soft drinks from a street vendor in Phnom Penh gave us another insight into the desperate poverty of the Cambodian people - the vendor carefully poured each drink into a separate plastic bag and gave us the bags plus three straws. Then the empty glass soft drink bottles were carefully stored in a crate, either for later reuse or to get a refund, we were unable to establish. This seemed to be a fairly common practice in Cambodia, and not only for soft drinks - petrol is sold from roadside stands in a similar way, except that disposable plastic bottles are used, not plastic bags.
At supper that night the brutal reality of life in post-Khmer Rouge Cambodia was made shockingly obvious. A block away from our guest house was an open square, empty during the day, but which was transformed into a teeming conglomeration of makeshift restaurants at night. Tables, chairs, tablecloths, cutlery, stoves, cooking utensils and portable refrigerators suddenly appeared, bringing a rather dead area of open tarmac to life with activity, food and laughter. We walked there for supper, and chose one of the pop-up restaurants at random - they all seemed to have identical menus. These makeshift places are fast, so within minutes we were eating; unsurprizingly, the food was fantastic, fresh and flavourful. We saw a few other Westerners also eating, but most of the diners were locals.
Half way through our meal I noticed a group of street children squatting on the tar a short distance from our table. They ranged in age from about five to fifteen and sat in silence without moving, their hollow eyes hungrily watching us. They did not approach us or make any attempt to beg, just sat watching. Glancing around I saw that the other tables where Westerners were sitting also had a retinue of observing children. We debated what to do, and hadn't yet decided when Karen put her chop sticks down and pushed her plate away, some rice still uneaten. Instantly one child darted forward holding a plastic bag, and in one expert movement she upended Karen's plate into the bag, ensuring that not one grain of rice fell to the ground. At no time did she threaten us or try to intimidate us into giving her food - she simply took the food that wasn't eaten and put the clean plate back onto the table. The restaurant people made no attempt to intervene, so this was obviously a normal and expected occurrence.
Finally we got it - the children were starving and wanted whatever food was left over. They had worked out that if they took uneaten food from plates after people had had enough, did not steal the plates and did not hassle the diners, the restaurant owners would not stop them or chase them away. Incredible ... so Scott and I both left some food behind, and it too was cleaned off our plates into plastic bags. No words were exchanged and the children vanished into the night once they realized there were no further pickings available from our table. That episode has to be one of the saddest things I've ever experienced in all my years of travel - children reduced to such a pitiful state of hunger that they have to scrape left over food off diners' plates at restaurants. How the Khmer Rouge leaders who systematically destroyed Cambodia during the utter madness of their four years of rule managed to get away unpunished will forever remain one of the mysteries of the twentieth century.
Tuol Sleng genocide museum
[Saturday 8 July : Phnom Penh, Cambodia] We spent the morning at the Tuol Sleng Genocide museum, a moving place that documents the unbelievable atrocities committed by the Khmer Rouge regime under Pol Pot between 1975 and 1979. It is estimated that nearly 2 million people in Cambodia were brutally murdered during that time, many of them at the Killing Fields just outside of Phnom Penh. Another 1 million or so died from starvation directly or indirectly because of the insane Khmer Rouge policy of turning Cambodia into an agrarian nation of peasants (which effectively destroyed the country's economy). Proportionally, this is the worst example of genocide in human history, worse even than Hitler in Germany, Stalin in the Soviet Union or Milosevic in Yugoslavia, as the population of the entire country at the time was only about 9 or 10 million. One of the most disturbing aspects of this tragic period in Cambodian history is that NOT ONE of the Khmer Rouge leaders was ever brought to trial for crimes against humanity, including Pol Pot himself.
Aside : Pol Pot, whose real name was Saloth Sar (also known by the Khmer Rouge as "Brother Number 1"), was never captured or arrested. He died in mysterious circumstances in April 1998 in the little village of Anlong Veng in the far north of Cambodia, not far from the Thai border. By that time the Khmer Rouge movement had become insignificant and irrelevant, and after Pol Pot's death it disappeared completely.
We had lunch at a typical restaurant catering for Westerners - smart, clean and air-conditioned but with overpriced, mediocre food and terrible service. From that point on we resolved to eat only at the local street-side restaurants, which invariably served delicious food in an authentic setting. On the way back to our guest house we passed the massive Independence Monument, which contains multiple nagas (multi-headed serpents).
[Sunday 9 July : Siem Reap, Cambodia] A short walk through the broken streets of Phnom Penh brought us to the bus station, where we boarded an early bus to Siem Reap in the north-west of Cambodia. Siem Reap is the nearest town to the fabled ruins of Angkor; the scrum of touts at the Siem Reap bus station wanting to give us lifts, guide us or get us accommodation had to be seen to be believed. We managed to negotiate (fight?) our way through the crowd and got a very nice room at Popular Guest House for the next three nights at only ten US dollars a night. Popular Guest House (which has subsequently been improved and renamed to the Popular Boutique Hotel) was centrally located and had a shady open-air rooftop restaurant - a great spot to relax and escape from the oppressive heat.
Angkor
Angkor is an archaeological site six kilometres north of the Cambodian town of Siem Reap. It was the capital of the Khmer empire from the 9'th to the 15'th centuries, a period that is considered the Classical Era of Cambodian history. Its most imposing monuments are
Angkor Wat
, a temple complex built in the 12'th century by King Suryavarman II, and
Angkor Thom
, another temple built a few decades later by King Jayavarman VII.
The city of Angkor served as the royal centre from which a dynasty of Khmer kings ruled one of the largest, most prosperous, and most sophisticated kingdoms in the history of Southeast Asia. From the last decade of the 9'th century, when King Yashovarman I made Angkor his place of residence, until the early years of the 13'th century, the kings of Angkor ruled over a territory that extended from the tip of the Indochinese Peninsula northward to modern Yunnan province in China, and from Vietnam westward toward the Bay of Bengal. During this period these rulers utilized the vast resources of labour and wealth at their disposal to carry out a series of prodigious construction projects designed to glorify themselves, their gods, and their capital city. After the end of the reign of King Jayavarman VII in 1220, the power and vitality of the kingdom gradually waned until finally, after the armies of the Thai state of Ayutthaya captured and sacked Angkor in 1431, the city was partially abandoned.
[Monday 10 July : Siem Reap, Cambodia] Got up at 4:30 AM so that we could get to Angkor Wat in time for sunrise, which turned out to be disappointing as it was cloudy. Angkor Wat is the largest religious building in the world, and the ruins are truly magnificent - no matter what you've read or been told about Angkor Wat, the majesty and grandeur of the place cannot fail to inspire you.
We clambered around Angkor Wat for a few hours before going on to visit many of the ruins and temples in the Angkor Thom complex, such as Bayon (which has no less than 216 carved faces of the Khmer god Avalokiteshvara on 54 square pillars), Baphuon (a huge pile of stones and rubble which is painstakingly being put back together by archaeologists), the Terrace of Elephants and the Terrace of the Leper King (which has an excavated trench showing hundreds of detailed, evil-looking carvings).
After that we rode to Ta Prohm and some other lesser sights in the huge Angkor complex. Ta Prohm has been almost completely overrun by jungle, to the extent that huge trees are actually growing out of the walls; it was used as one of the sets in the movie Lara Croft : Tomb Raider (which starred Angelina Jolie as a kind of female Indiana Jones). Our last stop was Preah Khan, a ruin which is surmised to have been an ancient Buddhist school or university. Near Preah Khan is a strange building that seems totally out of place in Angkor; it has circular pillars and looks Greek, whereas everything else in Angkor is square or has squared corners. Very odd.
[Tuesday 11 July : Siem Reap, Cambodia] Took a tuk-tuk (trailer pulled by a motorcycle) to some of the outlying ruins of Angkor. First we went to Banteay Srei, a very ruined temple with hundreds of incredibly intricate and elaborate stone carvings, then we hiked for 45 minutes through the jungle to Kbal Spean (riverbed carvings and lingas, most of which have been looted). We re-visited Angkor Wat itself late in the afternoon; Angkor Wat is so impressive it needs at least two visits to appreciate it fully. Even then you can only begin to grasp the scale of the achievement when you've explored each of the three symmetric tiers several times. Our last stop was Phnom Bakheng, which required a very steep climb, but unfortunately the fabulous sunset view from there was ruined by banks of low cloud.
[Wednesday 12 July : Battambang, Cambodia] We checked out of our guest house early and went by minibus to the boat dock that serves Siem Reap, a ramshackle collection of jetties on the Tonle Sap River a few kilometres outside town. The place was a mess of mud, rubbish, beggars and derelict boats, and the boat we finally boarded did not fill us with any confidence or enthusiasm. We were bound for Battambang, the second-largest city in Cambodia, and had thought that getting there by boat would be a novel and interesting experience. We were proved right, but not in the way we imagined ...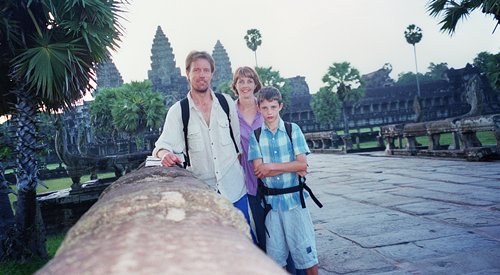 In front of Angkor Wat, Cambodia
Our boat chugged away at about 7 AM, negotiated the river settlements near Siem Reap for a short distance then headed out into the vast Tonle Sap Lake. Tonle Sap Lake is huge, the largest body of fresh water in the whole of South-East Asia. At the end of the dry season it covers about 2 500 square kilometres, but during the rainy season the lake floods an area of more than 10 000 square kilometres. The water level rises so fast that it actually reverses the direction of flow of the Tonle Sap River (which normally drains the lake)! At times when our boat was crossing the lake it appeared as if we were in the middle of the ocean - no land was visible in any direction. But eventually we reached the other side where the boat nosed into the broad and muddy Sangker River (Stung Sangker).
The whole trip was a truly nerve-sapping ten hour ordeal in alternately torrential rain showers and blazing heat. The boat broke down several times, collided with the bank, felt like it was going to capsize any moment and filled with water faster than the pumps could handle. But despite the decrepitude of our transportation, the journey down the river provided a fascinating insight into a culture with a very different lifestyle, because for many kilometres in the Tonle Sap lake and along the Sangker River there are floating villages where people spend their lives living on the water - houses, shops, restaurants and even schools are on boats. Rather than driving or walking to the shops, people go by boat. Children go to school in small canoes. On occasion there were water-based traffic jams, with a profusion of small boats criss-crossing the river in every direction, nimbly avoiding our lumbering diesel behemoth. These floating villages are populated mostly by stateless ethnic Vietnamese, displaced from their homeland by the years of conflict in the region and eking out a fragile existence from the water.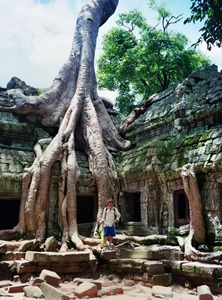 Scenes from Angkor : Ta Prohm (left) and the gate into Angkor Thom
The boat we were on was like a bus that never stopped, because quite frequently as we chugged along small canoes would dart out from the mass of connected floating houses and meet our boat while it was still moving; somebody would climb aboard with a suitcase and the canoe would paddle back, the passenger safely aboard the "bus". This continued for much of the journey down the river, until there weren't enough seats for all the passengers on the boat - many of those who boarded later on had to stand all the way to Battambang or sit on the roof out in the open, where there was no shelter from the searing tropical sun.
When we finally docked near Battambang we had to clamber onto the river bank via a rickety gangplank and squelch through thick mud to a dirt road, where minibus taxis were waiting to take us into town. But the ordeal of the boat trip ended on a happy note when we checked into a very comfortable room at the Royal Hotel for the next two nights; a refreshing shower and an excellent dinner at the White Rose restaurant in Battambang rounded off a long, hard day.
[Thursday 13 July : Battambang, Cambodia] Battambang is a bit of dilapidated place - broken pavements, poverty, squalor and filth. The city is a fraction of the size of Phnom Penh (luckily with none of the capital's frenetic traffic) and sits alongside the tranquil Sangker River, slumbering and somnolent in the heat. It is hard even to find a restaurant here, and when you do you get besieged by street children begging for food. However, we strolled around and saw what little there is to see - the central market, some crumbling old French architecture, the broad and muddy Sangker River and a derelict train station that sees ONE train a WEEK (from Phnom Penh). In fact this is the only passenger train still running in the entire country; the rails are so crooked it's a wonder this sole surviving train ever makes it that far.
Aside : By 2009 this train had been terminated, and until 2016 there were absolutely no operational trains in Cambodia at all. However, during this period a large number of informal "bamboo trains" zipped up and down the abandoned railway tracks; see here for a fascinating story about these home-made trains.
In April 2016 a new train service was inaugurated on the recently-rehabilitated Phnom Penh-Kampot-Sihanoukville route, and work continues on various other railway lines in the country (including a connection with Thailand's railway at the Poipet-Aranya Prathet border).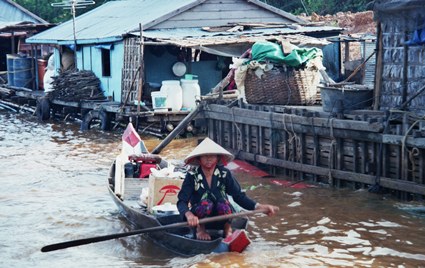 Floating villages in the Sangker River, Cambodia
[Friday 14 July : Bangkok, Thailand] Took a bus from Battambang north-west via Sisophon to Poipet on the Cambodia-Thailand border, crossed into Thailand on foot and then caught a Thai minibus west via Aranya Prathet to Bangkok for our last night in Thailand. The road west from Sisophon to Poipet in Cambodia has to be seen to be believed - huge potholes, flooding, mud, trucks stuck all over the place, cars crashed; a hair-raising, kidney-rattling drive. The gulf between the relative wealth and prosperity of Thailand compared with the abject poverty of Cambodia is sad and shocking; decades of military rule, civil war, communist Khmer Rouge madness, Vietnamese occupation, American bombing, political instability and ongoing corruption have left Cambodia in a tragically desperate state that will take many generations to rectify. Even today (July 2006) the democratically elected government includes people who were members of the former Khmer Rouge regime, and who have never been called to account for the unspeakable atrocities they perpetrated.
The bus got into Bangkok at about 7 PM that night. I managed to persuade the driver to drop us near the hotel in which we would be staying, so we didn't stay on the bus all the way to the terminus at Khao San road and then have to haggle with taxi drivers in the dark. It was just a short walk to the hotel, where we arrived dishevelled, haggard and stinking from days of travel; the receptionist checked us in and ushered us out of the hotel's elegant reception area in double quick time before we could offend any of their more well-heeled guests [Aside : This was the third night of the three nights' free accommodation we received with our air tickets].
[Saturday 15 July : Kuala Lumpur, Malaysia] Our last day in Thailand ... we walked around Bangkok and did some last-minute shopping to get rid of our few remaining Thai Bahts, then took our hotel's courtesy bus to the airport and caught our plane to Kuala Lumpur in Malaysia, a short trip of a couple of hours. We had a five hour layover at Kuala Lumpur International Airport, from 8 PM to 1 AM.
[Sunday 16 July 2006 : Cape Town, South Africa] Our connecting flight from Kuala Lumpur to South Africa left at 1 AM, and we arrived in Cape Town (after a tedious stop in Johannesburg) at about 9 AM after a few time zone changes. After the 35+ degree temperatures we'd been experiencing, the cold weather in South Africa was tough to adjust to. And thus ended our South-East Asia adventure ... next stop Italy in 2007 (for Karen) and the Middle East in 2008 (for all three of us).
---
© Paul Kilfoil, 2018